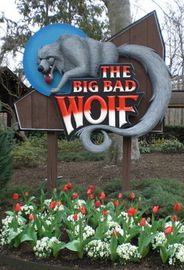 As always, I'm late hearing the news. Just today I found out that Busch Gardens, the Williamsburg, VA theme park, is closing the well-known Big Bad Wolf Roller Coaster. Why is this sad? The Big Bad Wolf has been running for 25 years (since 1984) and was the park's first suspended roller coaster. It was also the first roller coaster my sister and I ever rode. (Oh, and I had an extreme fascination with wolves as a child). I remember nervously waiting in line with my dad and sister, preparing my sixth grade self to either a) plummet to my death, b) die of a heart attack, or c) scream my lungs out. (I guess there was also a fear of barfing everywhere). I ended up screaming only a bit, but I loved it. The three of us rode the Big Bad Wolf over and over again, and I felt so incredibly proud of myself and so cool - remember how cool it was to ride a big roller coaster when you were 11?
This past summer, J and I went to Busch Gardens with his family. The two of us waited for about 30 minutes to ride the Big Bad Wolf, neither of us realizing it would be the last time. I'm a nostalgic babbler, so it is sad to see the ride go (apparently it has "reached the end of its serviceable life," whatever that means). I'm glad the Loch Ness Monster roller coaster (1978) is still there, although the older I get, the more of a headache those loops give me. I love the older roaster coasters - I'd take those any day of the fancy, corkscrewing speed demons they are dumping into parks these days. Seeing the Big Bad Wolf leave Busch Gardens is very sad - and I really, really hope the Loch Ness Monster isn't next to go.
Now I'm left wondering: where does a roller coaster go at the end of it's life? It seems too expensive (and extremely wasteful) to just dump it into a landfill. Do they sell it to a small theme park? Melt it down for the material? Any ideas?
Quote: John Reilly,
Hampton Roads
Image copyright: Virginia-beach-family-fun.com