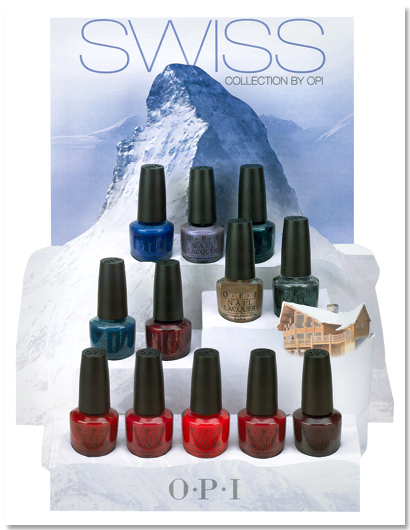 Part II
Today I have the second half of OPI's Swiss Collection for fall 2010. This half of the collection is composed entirely of glittery, shimmery polishes and is, aside from
Ski Teal We Drop
, the standout half of the collection in my opinion.
Check out the swatches and let me know what you think!
Glitzerland
I'm of the opinion that a good gold is hard to find. I have a lot of polish, but there is only ONE gold polish that I truly love:
OPI I Get a Kick Out of Gold
. I have been searching long and hard for a similar gold because I LOVE I Get a Kick Out of Gold so much. My search has ended here. Glitzerland is a STUNNING, shimmer gold. It is just stunning without being gaudy or too sparkly. I am absolutely buying another bottle of this - I love it! Glitzerland covered well with three coats and dried very quickly. It also works great as a Konad stamping polish, as you can see
HERE
.
Diva of Geneva
Gah, this is so GORGEOUS!! Shimmery jewel-toned purple loaded with pink and gold microshimmer. This is such a pretty color, indoors and in the sun. I used three coats, but it covered really well with two. It dried very quickly (I was able to stamp over it in just a few minutes) and has a great shine even without a topcoat. Diva of Geneva (isn't that such a cute name?) is a beautiful polish.
Lucerne-Tainly Look Marvelous
Lucerne-Tainly Look Marvelous (ok, that is a tough on to type) is a dark, gunmetal silver with lots of shimmer. This is a very unique silver because it is a) dark, b) shimmery. I kind of wish this had some glass-flecked glitter in it - not saying I don't love it though, because I'm actually really excited about it. Maybe I'm just craving glassy glitter flecks right now. It's a cool color, and I know I'll be doing something with this and snowflake designs come winter. It covered great with two coats, the formula was just excellent, and it dried quickly.
The Color to Watch
Slightly frosty pale silvery purple with a moderate amount of microshimmer. It took four coats for full coverage, but applied nicely and had an average dry time. This worked really nicely as a Konad stamping polish. Very pretty - I can see myself wearing this during the winter.
Cuckoo for this Color
Dark green with lots of very fine shimmer. Covered well with two coats. Dried moderately fast (not as quick as the other for some reason, but still pretty fast). It has a very nice formula and is a rich emerald green polish.
Yodel Me on My Cell
Yodel Me on My Cell is a medium vibrant blue with lots of bright, sparkling shimmer. It covered well with two coats and dried very fast. This is a very pretty, standout shade that will be great for summer as well as winter.

The entire OPI Swiss Collection will be available in most salons as well as Ulta & Trade Secret in early August. To learn more, visit OPI.com.


Which glitters are your favorite in OPI's Swiss Collection?
Do you like the cremes/jellies best, or are you more partial to the shimmery polishes?

Thanks for checking out the OPI Swiss Collection!!
Featured products provided by company/PR for review purposes.